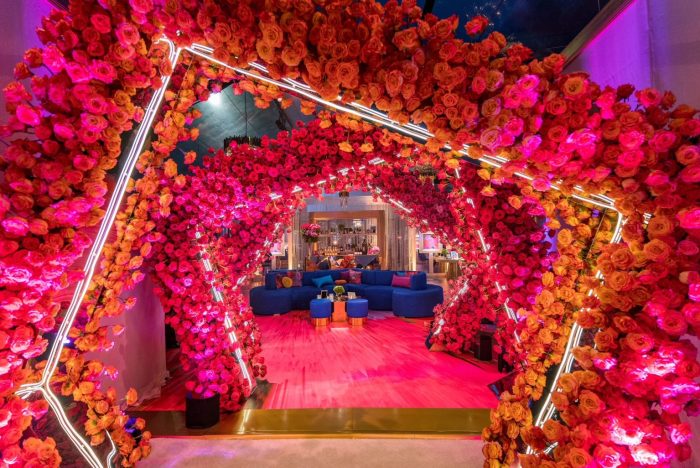 Maximalism is making a splash in the event design industry. If you're tuned into the latest design trends, you've definitely spotted its emergence. It's not just bold and vibrant—it's a design revolution. But is it "too much"? Let's explore.
Far from being a synonym for clutter, maximalism, when masterfully executed, presents a world of meticulously curated opulence. It's a dance of striking colors and rich textures, all intentionally chosen. And here's a fascinating insight: studies have shown that certain colors can profoundly affect our moods and emotions.
Thus, maximalism isn't just about visual appeal; it touches our emotions.
Take, for example, Barbiecore aesthetic. Despite its name, which might hint at an overdose of pink, it cleverly integrates varied colors, textures, and materials to exude a bold, eclectic vibe. Achieve this, and your event will be unforgettable.
Considering leveling up your next event? Here are eight strategies to effortlessly infuse maximalism into your space:
1. A Palette with Purpose
It all starts with the right color palette. While traditional pastels have their place, maximalism invites you to be daring — to be bold.
However, it's essential that each hue doesn't just enhance the aesthetic but aligns with your event's theme.
Here are some handy color selection tips:
Variety in Tones: Add depth by merging different shades and tints of a single hue. Think of pairing deep navy blues with the softer, dreamy teals and turquoises.
Adjacent Colors: Venture into colors that are neighbors on the color wheel. Dive into similar tones that have subtle contrasts, allowing for a seamless flow of hues.
Contrasting Hues: If you're feeling audacious, play with colors that stand on opposite ends of the color wheel. Marrying warm and cool tones can craft a depth that's visually captivating. Just ensure they maintain a balanced saturation to avoid one overpowering the other.
Colors with Intent: Lean into colors that radiate the desired emotions. While warm tones like reds and oranges can stir up vitality, the calming blues and greens evoke serenity and peace.
Anastasia Beverly Hills turned heads at the launch party for their Sultry makeup line with an audacious mix of purple, green, and yellow. A combination that might sound unconventional, but in execution? Stunning!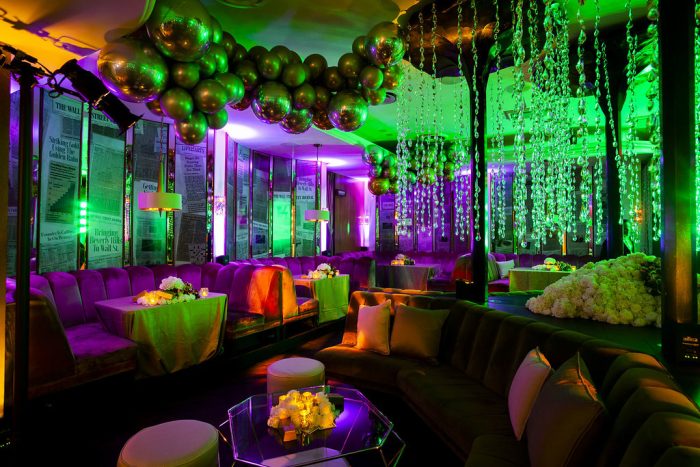 Planner: Mindy Weiss | Photographer: John and Joseph
2. Combine Patterns
Now that you have your color palette, it's time to pick patterns.
Bold, large-scale patterns can be mixed and matched in maximalism to completely transform the feeling of a room. Things like stripes, florals, chevrons, polka dots, gingham or even animal prints can look surprisingly harmonious when combined correctly.
Tips to make an impact:
Start with a Base Color: Anchor your design with a dominant base color. This will facilitate the layering of diverse patterns without them clashing.
Mix Scales of Patterns: Counterbalance large patterns with smaller ones. For instance, pair bold floral drapes with subdued geometric designs on pillows or linens.
Patterns Everywhere: From wallpaper to dance floors, let patterns flourish. However, ensure there's a common thread, either through color, theme, or style.
This Disney inspired celebration was anything but simple when it came to design. You've got oversized props, colorful floral centerpieces and a spectrum of details and patterns- but it all works!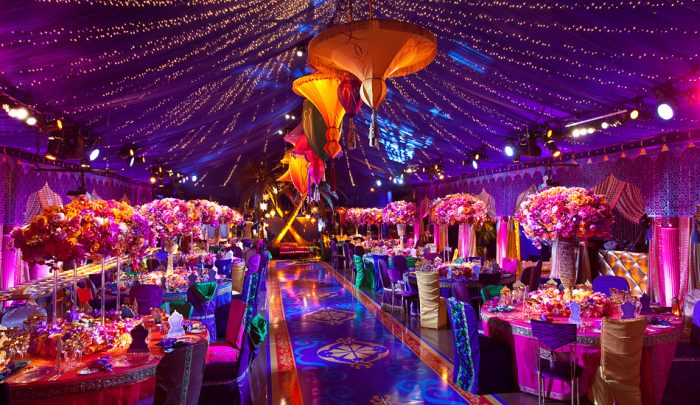 Planner: Sonia Sharma | Photographer: Andrena Photography
3. Embrace Layered Textures
Alongside pattern, texture plays a key role. Layering the right fabrics and textures at your event infuses depth into the design. So when selecting fabrics, aim for a cohesive yet distinct appearance.
Other layers to consider:
Mix and Match Fabrics: Combine silks with linens or velvets with faux furs for a multi-dimensional look.
Fabric Choices for Mood: Organic materials like cotton or silk bring warmth. For drama, match velvets with metallic highlights or contrast furry drapes with rustic wood.
Dense Draping: For drapes, opt for thicker fabrics that regulate light but allow subtle glimmers.
Floral centerpieces: Textures are not limited to fabric! Infuse texture in your centerpiece with florals and greenery.
This wedding after party at The Ojai Valley Inn was the epitome of luxury with velvet burgundy draping set against gold table and chair accents.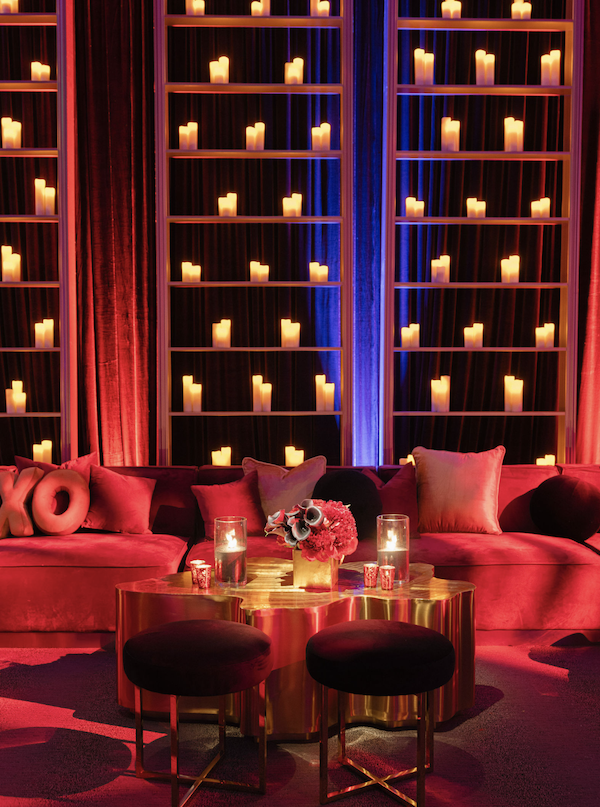 Planner: Iconic Event Studios | Photographer: KT Merry
4. Reimagine Your Space
Innovative event design is about pushing boundaries and reinventing event spaces.
Here's what we suggest when picking a space:
Unconventional Venues: Choose places that naturally exude maximalism like art museums or thematic restaurants.
Push Boundaries: From ceilings to floors, rethink conventional setups for creative and functional spaces.
Seating with Flair: Move past traditional setups and seating. Design areas that encourage interactions and conversations.
The Polite Society makeup launch was a sensory spectacle. The space was completely reimagined using streamer ceiling fixtures, disco ball, draping, and eclectic seating. Plus a huge light up decal. Minimalism could never!
Planner: Mindy Weiss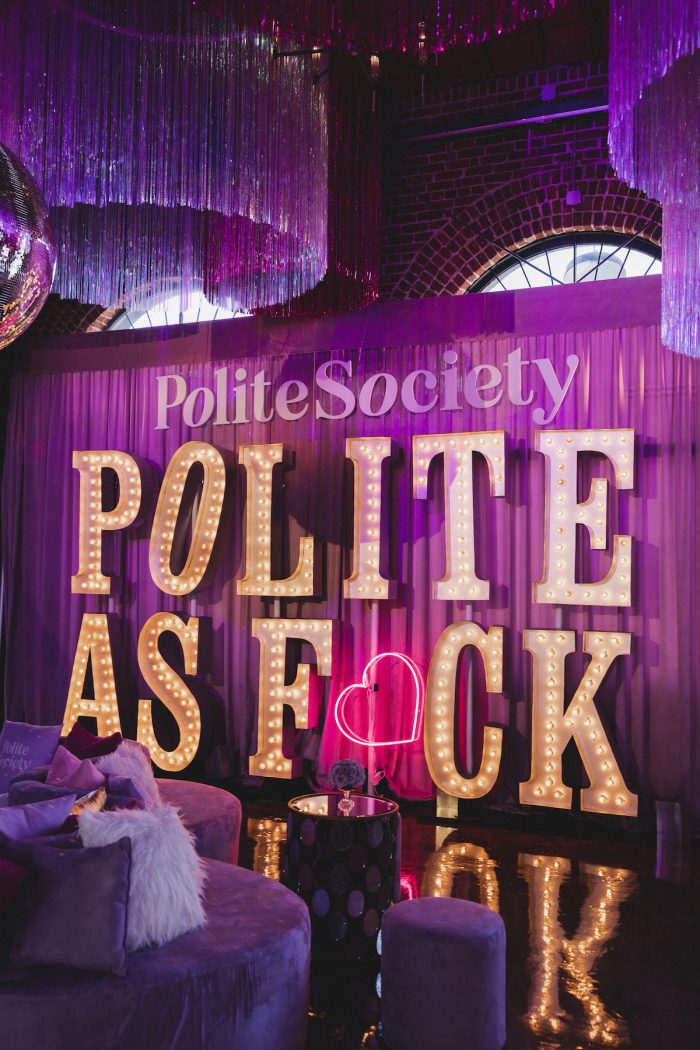 Photographer: Lex and the Lotus
5. Have a Showstopper
Maximalism is all about making a statement and therefore, should have a dramatic focal point.
This can be an art installation, centerpiece, chandelier, a dramatic furniture piece, oversized prop or an architectural feature —anything that catches the eye upon entrance.
This CandyLand-themed birthday bash was undeniably spectacular! Towering lollipops, a rainbow of ceiling streamers, and tables laden with candies showcased the brilliance of maximalist design.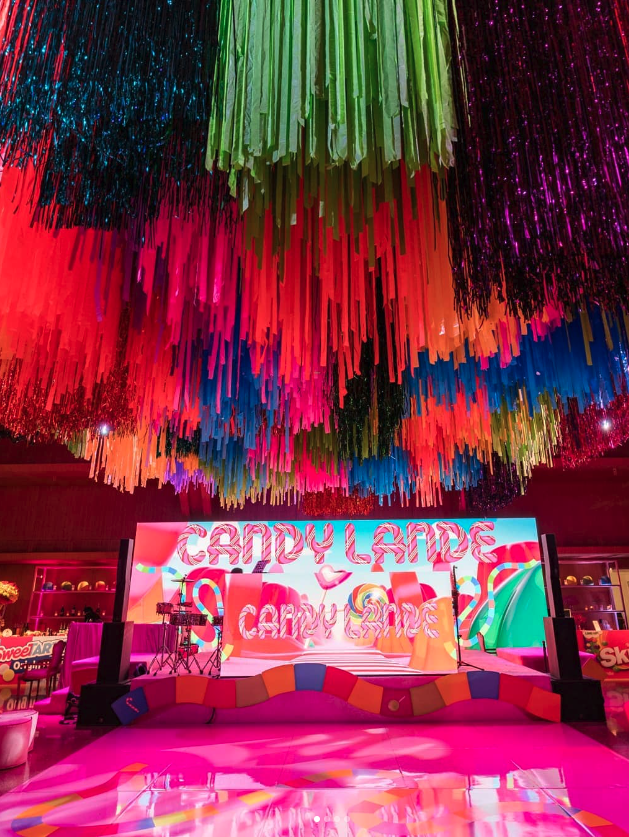 Planner: Mindy Weiss Photographer: John and Joseph
6. Showcase Individuality:
At its core, maximalism thrives on emotions, passions, and individuality. Add a personal touch by showcasing cherished belongings or unique items—be it ceramics, art pieces, vintage candlesticks, glassware or travel souvenirs.
While showcasing, maintain a sense of balance. Strategically place items across tables, shelves, and mantels. By ensuring a measured display, each piece gets its spotlight without overshadowing others.
These events did an excellent job showcasing art, vintage collection items and decor showing personality without overwhelming the space.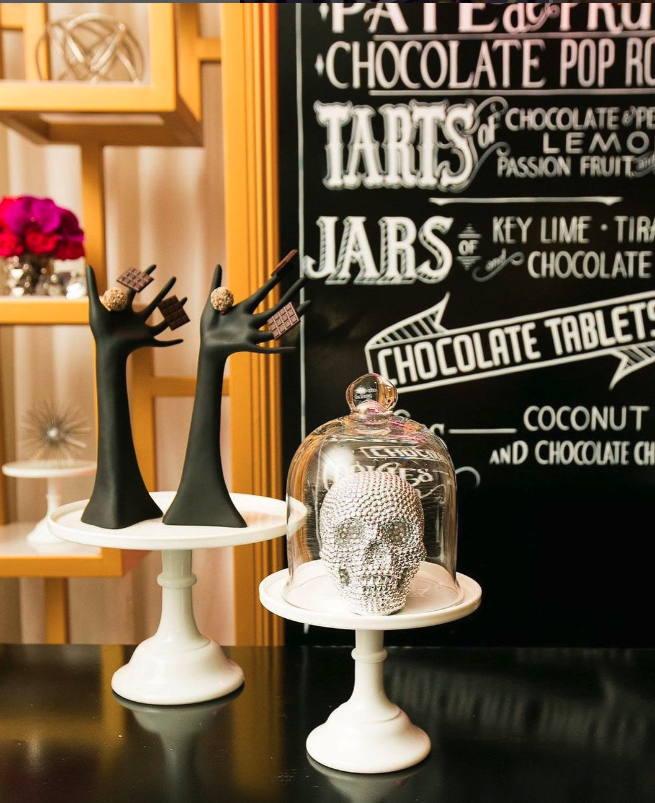 Planner: Bob Gail Events | Photos: Callaway Gable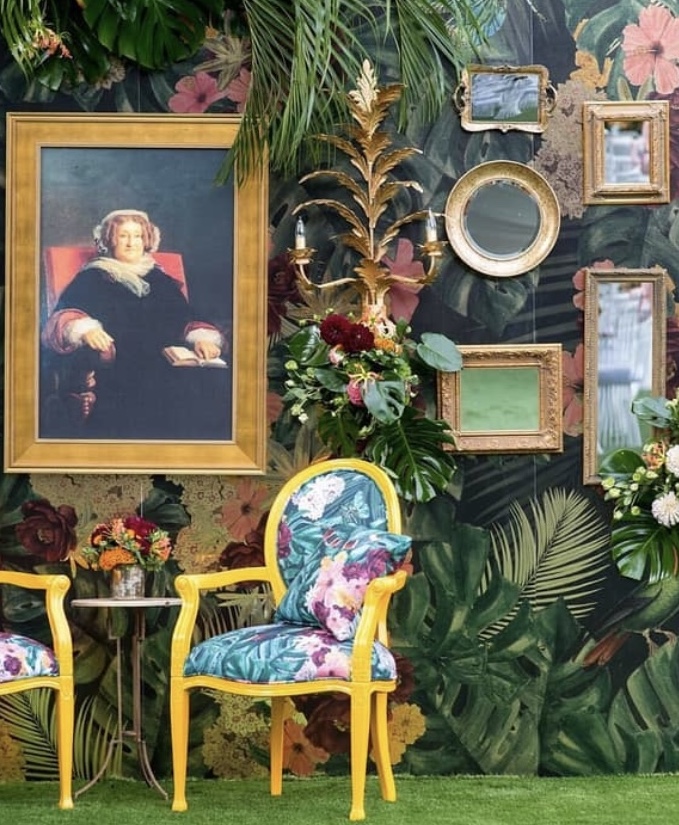 Planner: Brown Hot Events | Photos: Claire Barrett
7. Get the lighting right:
The right lighting can not only magnify your room's aesthetic appeal but craft a cozy, personalized ambiance that truly resonates with the spirit of maximalism.
Here are our tricks for perfect lighting:
Multiple Chandeliers: Diversify by layering multiple chandeliers at varying heights for depth.
Diverse Materials: Move beyond crystal chandeliers. Experiment with contrasting materials like blown glass with cotton or chrome with leather. Try decorative bulbs
Varied Light Sources: Blend overhead, task, and accent lights for warmth and character. Consider table or floor lamps to spotlight specific areas. String lights, whether draped on walls or ceilings, are always charming
This luxury wedding not only had layered chandeliers, but enormous chandelier centerpieces! Our Budapest Crystal Chandeliers were a perfect addition for memorable maximalism.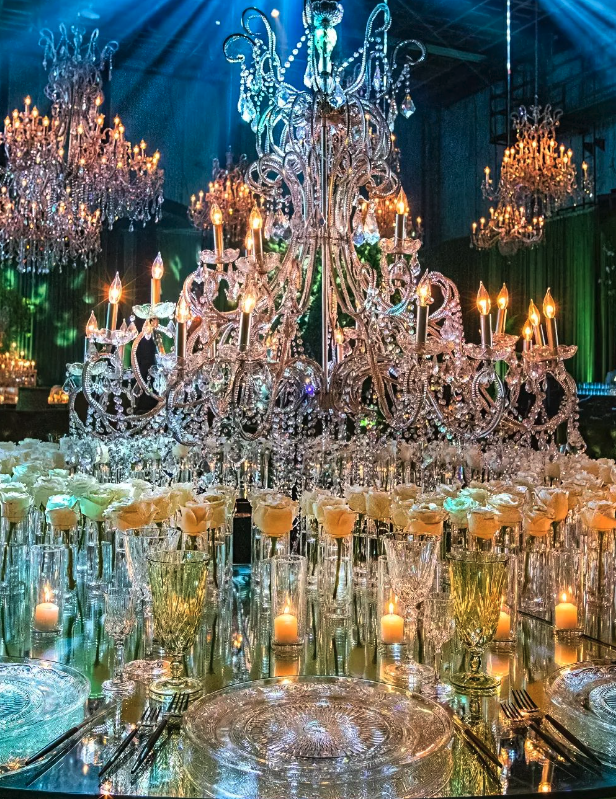 Planner: Aliana Events | Photos: Anna Anikina Photography
8. Try Neutral Maximalism:
If the thought of excessive color and patterns is daunting, neutral maximalism offers a sophisticated balance.
Use neutral and muted tones to keep a traditional feel. Neutral maximalist color choices range from shades of white, beige or brown alongside muted greens, blues or yellows.
Our favorite example of neutral maximalism comes from a wedding we designed at The Ojai Valley Inn. The custom draping and ceiling installation exemplified neutral maximalism with it's lavish design but with minimal color. The color palette of the reception was beige and white but with decor choices felt rich and decadent.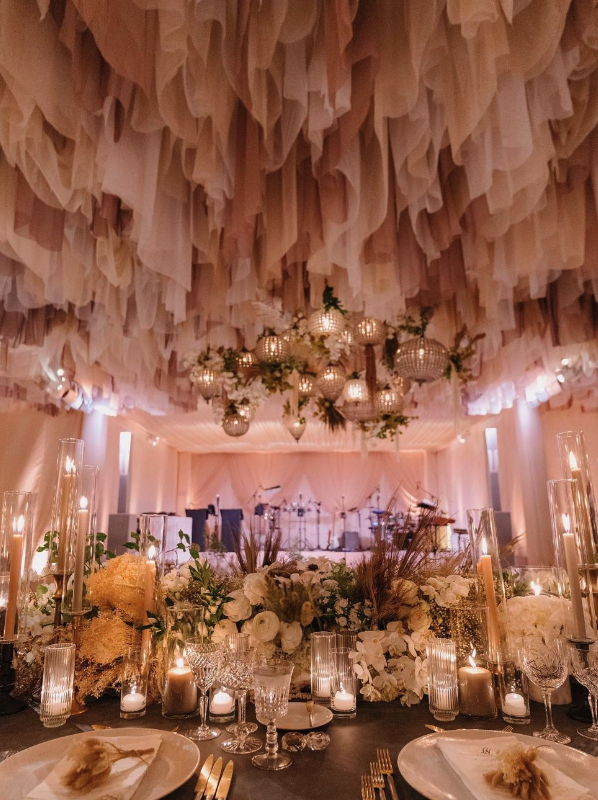 Planner: International Event Co | Photos: John and Joseph

In essence, maximalism opens the door to endless creative possibilities. Ready to take your event to the next level with maximalism? Let's chat! We're here to bring your vision to life.

Tags: bob gail, brown hot events, event decor, event design, event furniture, international events co, maximalism, mindy weiss


Categorised in: Event Design