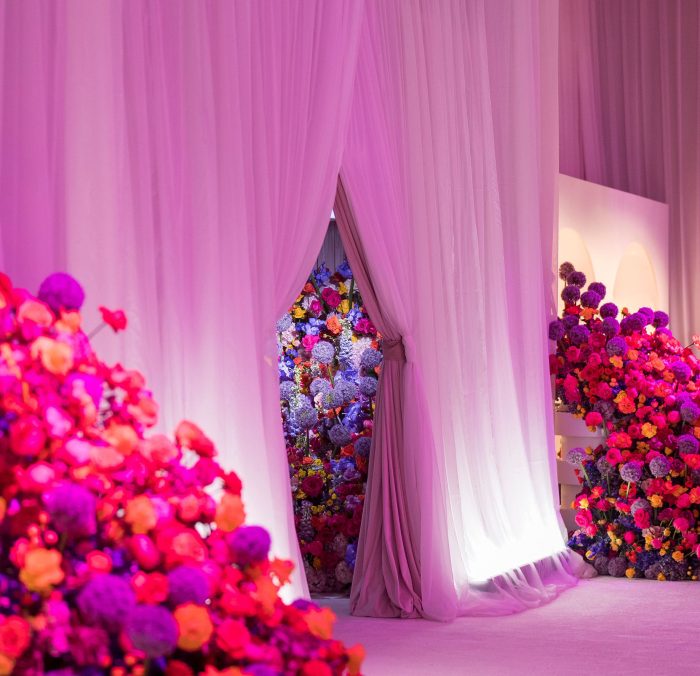 Event draping is more than just decorative — it's a transformative art form. It doesn't simply beautify a venue; it reshapes how attendees perceive and feel within a space. Draping can elevate a location from mundane to mesmerizing, and its roles are both aesthetic and functional.
Whether your aim is to revamp a venue entirely, highlight its inherent beauty, or address certain challenges, draping is your ticket to luxury.
In this post, we cover why event draping matters, what should be draped, where you can drape and how to achieve the best result.
Why event draping?
Draping an event isn't just about beauty; it's immensely practical and serves multiple purposes. From camouflaging unsightly spots in a venue to adjusting the perceived size of a room, drapes can be the answer to a plethora of venue challenges.
Did you know draping can enhance and change the acoustics of a room? You can use fabric to create rooms within rooms and build a completely new space. It has the power to set the mood and affect emotion of event guests which as we know is key in leaving a lasting good impression.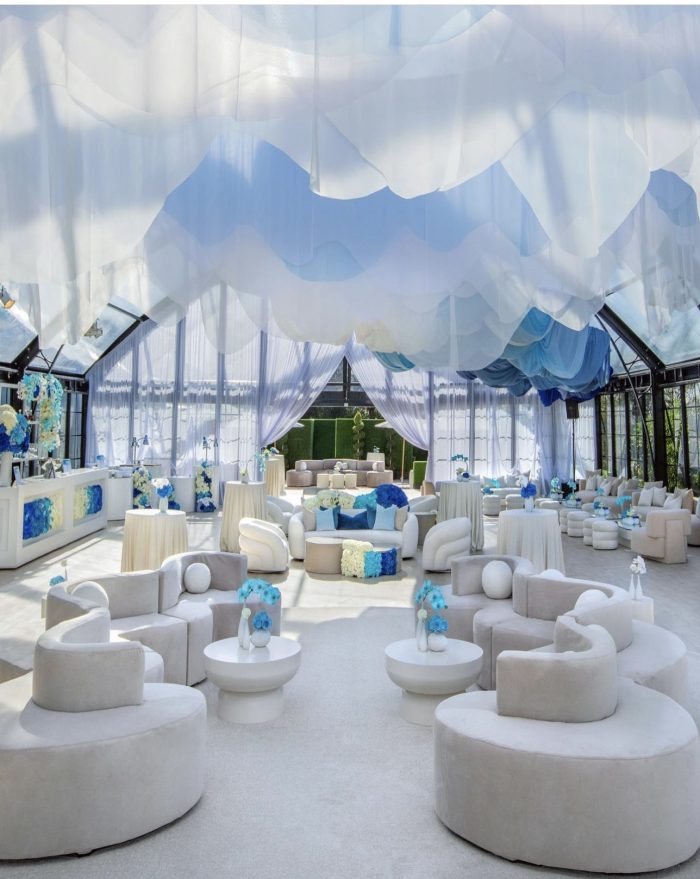 Roc Nation Brunch 2023, Planner: 424 Productions | Photography: Anna Anikina
Deciding Where to Drape
Deciding where to drape can be difficult when first looking at a space, especially a big one! Making the decision between ceiling draping and perimeter draping can majorly influence the ambiance of an event so let's get into the differences.
Ceiling Draping: Suspended fabric from above can give a room a dreamlike quality, perfect for making expansive areas feel intimate or highlighting architectural elements such as chandeliers.
Perimeter Draping: Focusing on the walls or boundaries, this method defines spaces (e.g., lounges or dining areas) and creates captivating backdrops for photography. Moreover, it's a great solution for camouflaging unappealing walls or distracting exits. Always consult with the venue regarding safety regulations, particularly concerning exits.
For this Pelican Hill wedding, we opted for an all-encompassing approach, draping both the ceiling and the perimeter for an ethereal vibe. We also used a layered fabric technique (which we'll get into later).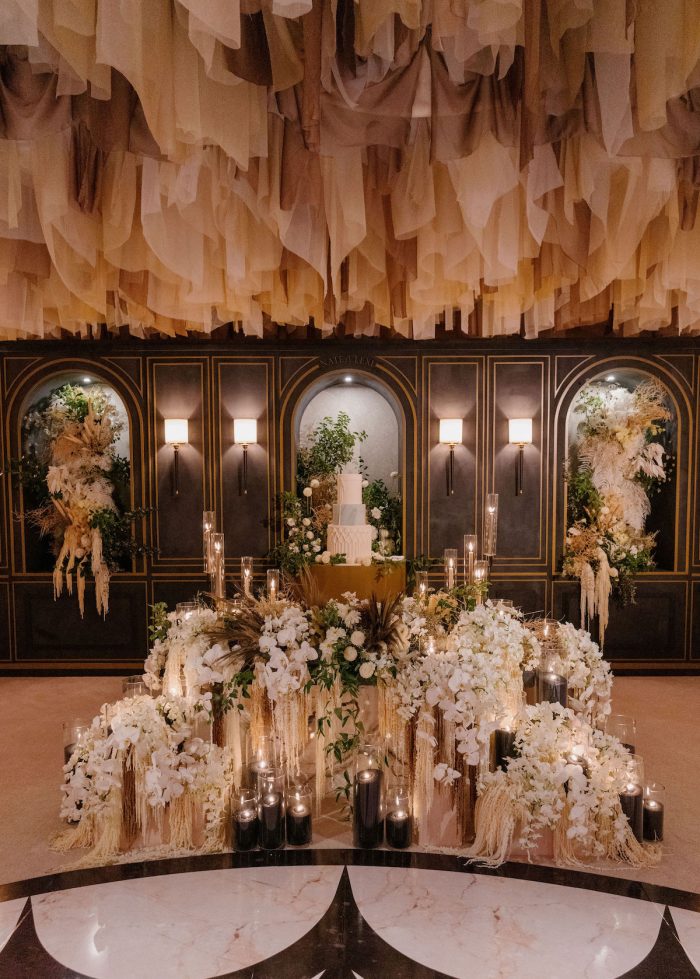 Planner: International Events Company | Photographer: John and Joseph
Specialized Draping Styles
Draping is not reserved for just ceilings and walls. At Revelry, we like to tie draping into other facets of the room.
Valance Draping: This involves draping fabric around the borders of the ceiling, often in a scalloped fashion, adding a decorative frame to the room.
Draping Trusses: When working with venues that have visible trusses, draping them can be both functional (hiding unsightly beams) and decorative, turning structural elements into aesthetic ones.
Stage Draping: Enhance the focus on a stage or podium by draping its backdrop. It provides a clean, elegant background, ensuring all eyes are on the performers or speakers.
Alcove Draping: Alcoves or recessed portions of a venue can be draped to create intimate spaces, photo booths, lounge areas, or a designated wedding cake area. Alcove drapery provides both privacy and a decorative touch.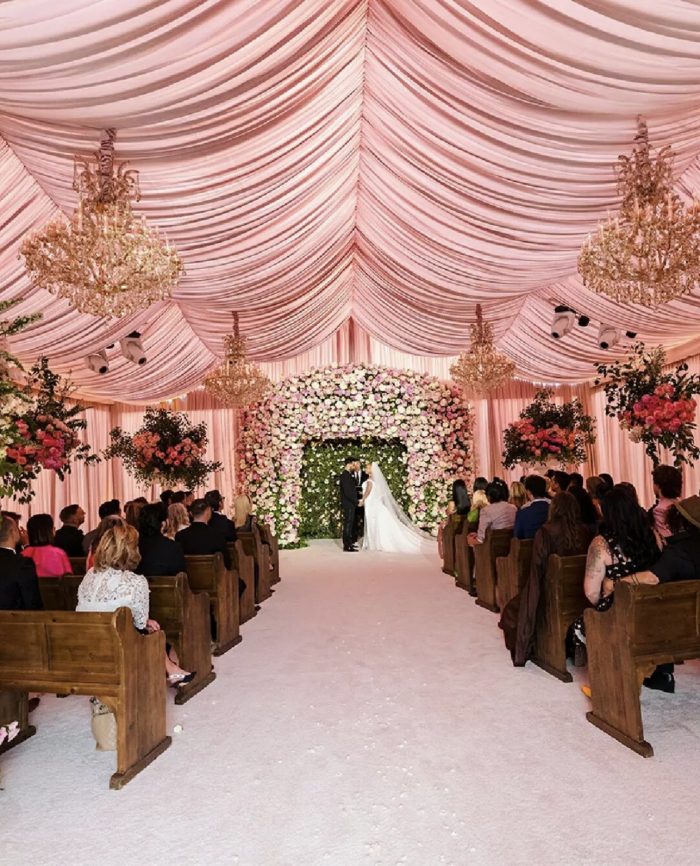 Planner: Best Events | Photographer: Kevin Ostajewski
Measurements and Balance
Grasping the dimensions — width and height — of your space is essential. The harmony and balance of a room depend heavily on well-measured and proportioned drapery. Always take a moment to stand centrally, review the space's layout, and ensure your measurements are spot-on. The drape installation method should then be dictated by the venue, fabric type, and overall design.
Fabric Selection
Choosing the right fabric is paramount. Heavy fabrics, like velvet, ooze luxury, while lighter materials, such as chiffon, impart a dreamy, ethereal aura. The intended purpose of the drapes, be it for blackout, sound absorption, or decoration, should guide the fabric choice.
Glitz Sequin: A showstopper, these shimmering backdrops are a favorite for festive events and photo booths.
Velvet: Exuding luxury and royalty, velvet is weighty, plush, and ideal for formal events. Pair it with valance hangers and lighter materials for contrast.
Poly Premier Fire Retardant: A go-to for both novices and professionals, this matte fabric pairs well with various linens and serves as a subtle backdrop. Its fire-retardant property makes it a must for large venues with strict safety protocols.
Four-way Stretch Spandex: A stretchable, wrinkle-free fabric exudes class. Pair it with sheer voile for layers.
Chiffon: Soft, luxurious, and versatile, chiffon is suitable for both casual and formal settings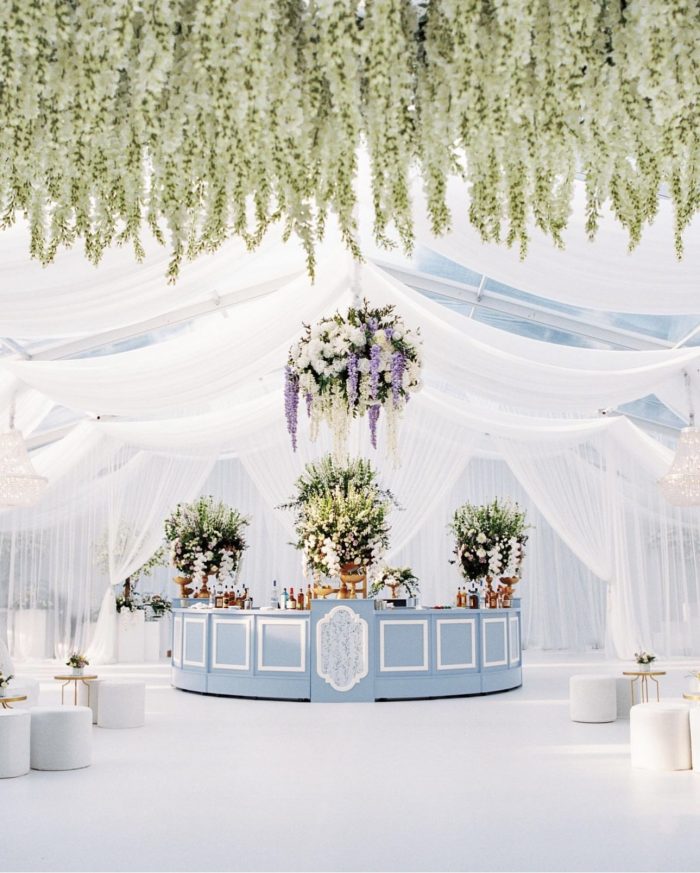 Planning: Kate and Company | Photography: Mike Cassimatis
Layering Fabrics
Love the ceiling draping from the Pelican Hill wedding? That's probably because combining different fabrics can result in a rich, multi-dimensional look. By combining sheer materials with heavier ones or playing with contrasting colors, you can add depth to your draping, particularly in larger venues.
Ambiant Lighting
Draping and lighting are symbiotic as how your draping is lit can change it's impact. Proper lighting can emphasize the fabric's texture, create varying moods, and even simulate starry skies or highlight intricate patterns.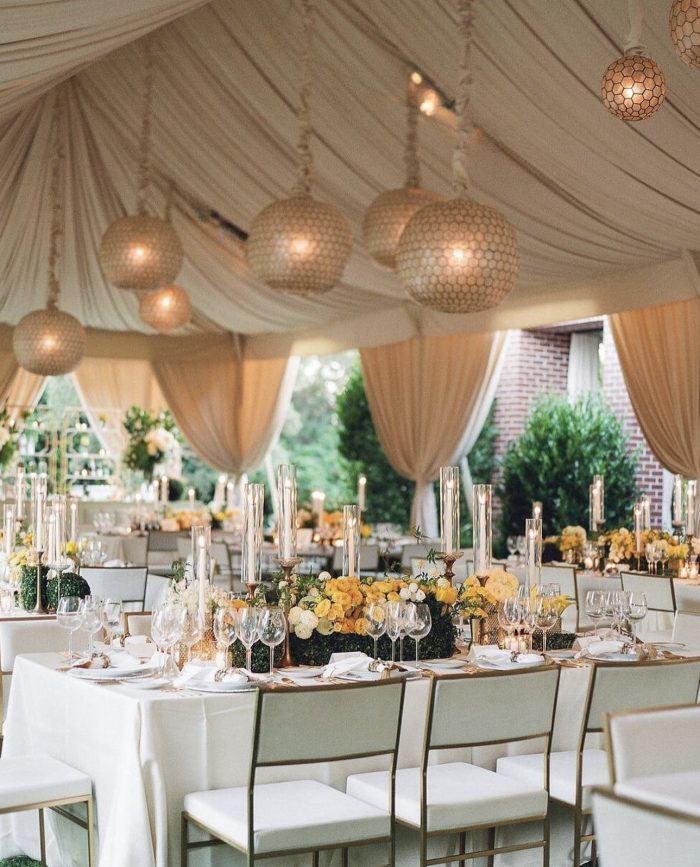 Planner: Levine Fox Events | Photographer: Michelle Beller
The Practical Magic of Drapery
For event planners and designers, understanding draping's nuances can take their events to the next level. With a discerning eye and proficiency in draping techniques, it's possible to create event atmospheres that captivate and enchant. Whether it's emphasizing soaring ceilings, delineating spaces within a venue, or simply adding a touch of magic, drapery is an indispensable tool.
At Revelry Event Designers, we can create a custom draping for any space or build and create our own!
Categorised in: Draping